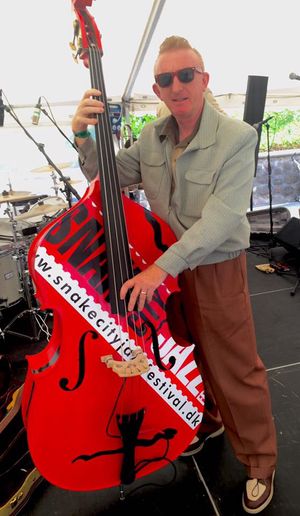 What an amazing weekend! Right after we touched down from Colombia (four flights to get home!) we flew right to Slangerup in Denmark for the Snake City Jazz Festival for the first time. 
A lovely little town about 45 minutes drive from Copenhagen and they have a great jazz festival there, a little similar to Upton Jazz Festival" with Marquees set up in a field and several venues in the town. 
We played two shows to packed audiences and made a lot of new friends. 
Check out the picture of Ken with some serious branding on the bass! 
Then we flew on Sunday back to Heathrow and headed to Bedfordshire to a very sunny and packed Twinwood festival! 
We had special guests Cassidy Janson, Antonio Socci and Lottie Beattie join us for a great laugh on stage to a huge crowd. 
Lovely to see all our friends from all over the world and great to see Mike Sanchez again after performing with him at Summertime Swing a few weeks ago! 
This week we are in London rehearsing for a potential Louis Prima related project and this weekend we are at Rayner Rock n Roll in Tadcaster and the Tower Ballroom in Middlesborough. All details from the Tour page!