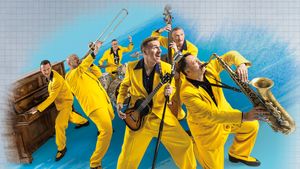 Hey folks, 
As many of you know, all of us have been Scientologists for well over 20 years now and we have been big supporters of the church's "Truth About Drugs" campaign having done hundreds of events. 
We have some very exciting news! Last year we filmed an episode of a series called "Meet A Scientologist" for the new Scientology TV network which is a mini-documentary about the band. It is airing this Tuesday at 5pm Pacific Standard time and again at 8pm. Then on Wednesday at 3am, 9am, and 2pm. 
If you are outside the USA or don't have "Direct TV" then don't worry because it will be live-streamed at www.scientology.tv (UK times: Wed 18th, 1am, 4am, 11am, 5pm and 11pm) and it also be on demand on the website and the app to watch any time you want after the initial airing. 
Check out the trailer for the show right here...
CLICK HERE to watch the full 22 minute show on-demand!
Hope you enjoy the show and see you at a gig soon!