If you are like us (The Jive Aces) you will probably be playing a huge variety of shows that range from local dance nights run by enthusiasts to large festivals run by a team seasoned professionals and everything in between. This can mean that the consistency of web presence can vary greatly and you may find some missing altogether. You may also organise your own events and book other bands or be a promoter yourself. You can, however, take control of this to a degree to maximise the effectiveness and efficiency of Facebook Events on your band page.
One way you can do this when creating Facebook events is to ensure that everyone involved is added as a co-promoter. For instance, for our Big Jive All-Dayer event, we had four other bands and three DJs. I added them all as co-promoters of the event. They then got a notification and all they have to do is accept and the event gets added to their Facebook Band Page or profile event calendars automatically. This also avoids them creating duplicate events and splitting the potential audience's attention where they may have missing details etc. That way, when they use the "invite friends" function all the involved parties will be inviting people to your event which creates more interest and builds momentum in one place which Facebook seems to reward. They certainly penalize you if you invite lots of people who don't respond.
The above can also work if the venue or promoter are being slow in creating events, you can do the work for them and when you add them as a co-promoter you will give them a digital kick up the bum! In the example below, I have done this to Ian (MWAHAHAHAHA).
[UPDATE] Some people tried to follow these instructions on mobile devices in the app. Don't bother, just use your laptop and save your thumbs. These instructyions are for the computer. If you are a mobile power user you may be able to do it in the browser on your phone/tablet but you'll need to force the website to show you the desktop version, not the mobile version.

As a band, you can also apply this in reverse if you are playing a venue or festival and you want to add it to your page calendar. You can actually increase awareness of your band/act by utilising the promotion that the festival is doing themselves.
Instead of creating a new event yourself and again, find the venue or festival's page and go to their events and find the correct one. Open up the event you are involved in and click on the three dots to see the drop-down menu. Choose "Add To Page". See the example below of the Trackfest event we are playing at.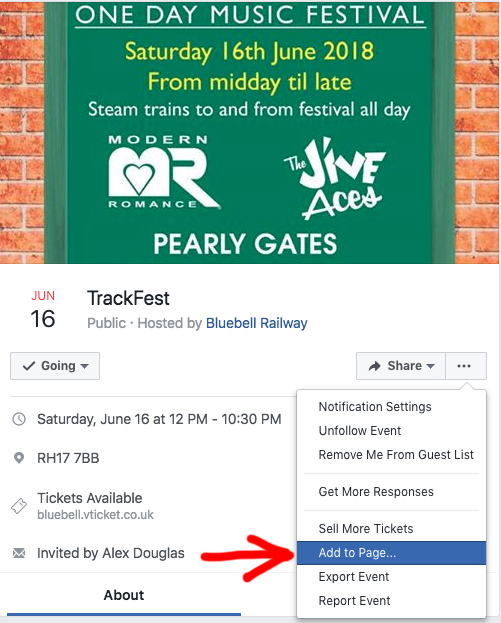 You'll then see a pop-up box asking you which page to add it to. If you have more than one page then choose the correct one (you can add it to as many as you like).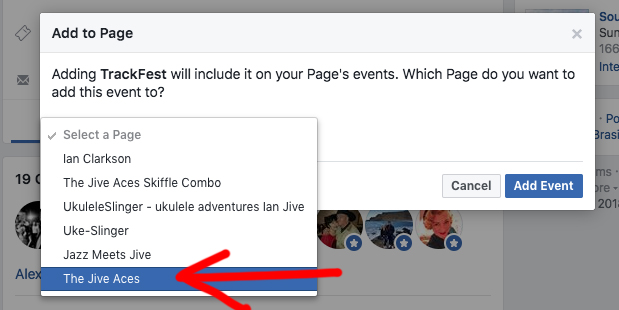 If you navigate back to your Page's event calendar you will now see the event added in as your own.

Ideally, you also want to be a co-promoter as then Facebook will give you more invites so you will have to contact the venue/promoter and get them to follow the above instructions in the first part of this post so if they don't know how then refer them to this blog!
To finish, I highly advise having all your events listed on your Facebook Page calendar (yes, on top of your own website which you spend ages maintaining, I know the struggle is real!). The number of messages we get on Facebook asking "when are you playing in my town next?" or "when are you next in [BLAH]?" despite regularly publishing the website gig guide link is unreal! What can I say, people are too lazy to work out how to make a couple of clicks outside of Facebook! You can't have your event's listed in too many places. The key to event promotion is quantity first, quality second. It is and always will be a numbers game!
Hope this helps. Leave me any feedback or questions in the blog comments.
Cheers, Alex