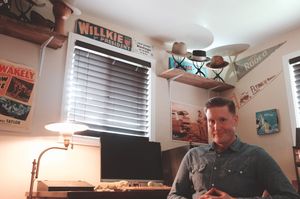 For this post, I have invited my first guest to the blog, Mr Chris Wilkinson. Originally a Devon native, Chris has been playing the guitar and singing in bands for the past 15 years and has released three albums on the Western Star records label with bassist Yann Mahdjoub in the UK performing as the rockabilly duo The Bonneville Barons. The two of them then went on to form the Western Swing quartet The Zazou Cowboys, by which time he was also playing the guitar and drums for a variety of other groups including Lynette Morgan & The Blackwater Valley Boys, Becca Langsford, The Radio Ramblers and Charlie Thompson & The Chickasaws. After fleeing the country (OK, getting married and relocating to Sacramento California, but that didn't sound as exciting!) in 2016, Chris met bassist Zack Sapunor & electric 5-string Mandolin player Olen Dillingham, and formed a trio playing western harmony swing & jazz, named The Sweet & Low Melody Co.
He now makes his living between playing jazz, country and hillbilly guitar (including with The Jive Aces on the occasional USA tour) and graphic design work, specializing in vintage style and has worked with many bands on the swing and rocking scene over the past few years in both capacities.
Being a lover of vintage graphic design, having taught myself by doing the Jive Aces flyers and posters, I have learned a lot from his work and thought you might too. In fact, I was so impressed how his work captured a truly authentic 50s style yet felt very clean and fresh that instead of attempting it myself, I hired him to design the artwork for both a movie poster for our "Rock 'n' Roll Movie Star" music video for the fictitious sci-fi B movie "Hotrod Gang from Outer Space" and also our latest two albums and accompanying double album vinyl set, "Diggin' The Roots Vol.1: Rockin' Rhythm & Blues" and "Vol.2: Hot Jazz" (which, if you will excuse the shameless plug, are both available in our STORE, see later in the interview for that).
Chris came on tour with us this Spring with his guitar and took a few minutes to answer some questions...
1) How long have you been doing graphic design and how did you get into it? 
I started doing graphics stuff primarily for my own band's CD's and posters, approximately 12 years ago when I was in my early 20's. It was partially out of necessity, but there was also a large part of me that wanted to have control over not just the sound of the music I was involved in, but also the entire presentation (I think they call that OCD!). I definitely had an awareness that everything mattered, album covers and presentation style was just as interesting to me as the musical side of being in a band. Naturally this stuff snowballs, and in a small world like the vintage scene I just ended up getting asked to do album designs and T-Shirts for friends and acquaintances, which was a big learning curve. What I quickly found out was that it's really different trying to produce work based on someone else's ideas when you're simply used to just pleasing yourself, and I think every graphic designer in the world will attest to that - it can really be challenging realising someone else's (potentially flawed) vision, whilst still maintaining your own integrity and style.
2) When did you start specialising in vintage style design and how did that come about? 
The vintage thing came pretty much right off the bat because at first I was only producing work for my own band and had complete control over what I wanted to produce, so I was just figuring things out and exploring everything that I personally loved about mid-century style. Pretty quickly, one of the things I noticed was that for some vintage-style bands, their artwork was such an after-thought. I'd be blown away by the authenticity of their musicianship and recording techniques etc, but then you'd look at the CD cover or whatever and it'd be hideous! It's partially due to the fact that vintage stuff is essentially alternative/indie music and not funded by major labels, so the resources available to these artists are limited. But I was staggered at how little some people paid attention to their posters and album covers because for me it always made up such a large piece of the overall package. If you look at album artwork from the 40's and 50's it was big business - serious painters and graphic giants were hired by Columbia or Victor, and the artistry in those covers was immense. So I had a sort of mission statement, and that was to produce the kind of artwork that stood up to the finest stuff from my favourite era of graphic design. In my eyes, the more artistry that was put into each design seemed to be directly equal to a more "vintage-looking" end result. 
3) What are your inspirations for creating new pieces in vintage styles? Do you use any specific reference materials on a regular basis? 
I get a lot of inspiration from the internet - it's pretty much an endless supply of visual ideas and the only trick is knowing where to look. Instagram is great for that. I see so much amazing stuff on there which I always favourite so I can return to it later when I'm looking for inspiration. The problem is just trying not to spend too long scrolling through endless food pictures and memes! Aside from music-related stuff, one of my favourite things to search for is packaging artwork - the lettering and design on the vintage packaging are amazing to me, from matchbooks to flour sacks, that stuff is high art in my eyes. I'm a big fan of commercial art - things that were created for an informative purpose and might seem relatively workmanlike, but still had this amazing sophistication and a high level of artistic merit. My ultra-creative friends Tina Vines (Vines of the West) and Derek McDonald (Golden West Sign Arts) recently turned me on to the work of Dorothy & Otis Shepard, a couple who created some unbelievable commercial art in the early 20th century, and I've been really into that lately. Of course, there's nothing like having a library of reference books, and I have a few favourites from people like Jim Flora, Robert Crumb, books on vintage cartoons, comic books, album covers, book jackets, movie posters, advertising characters and so on. 
But for the most part it usually comes from the 'client' or job that I've been asked to do - usually, their style (or the genre they're aiming for) will dictate a few key things, and kind of set the tone for what I'll do. I always aim to create something fitting for that particular individual or project, and also invite them to submit ideas and influences, favourite album covers or any particular inspiration so I can get a handle on how they'd like to be perceived. There are some amazing graphic artists working within the vintage world today who have a 'thing', and their work is immediately recognisable because they've forged such a personal style. But I don't think I'm really in that category, I tend to try and create something truly tailor-made to each band or project - - not every record would benefit from having a cartoon on the cover. It might be very simple, like just adding the right carefully-chosen fonts to a photograph, or doing a stylised portrait, but they're all satisfying to me.
4) What are your top three tools (sites, plugins, software, resources etc) to help get that vintage look? 
Well, it's important to say that I do everything in Adobe Photoshop - I know, I know, it's not the usual program for a graphic designer, but I just got too deep into it and I've gone too far to turn back now! But it's ok, I can get away with it, and I've found ways to work around problems like not rasterizing text (which took me a long time to learn). But I think the important thing with any creative tool is that it should almost vanish when you use it and just allow you to get your ideas out, whatever they might be. My second must-have tool is definitely a pen/tablet - I have a little tiny Wacom Bamboo tablet that I've used forever, and it's essential for me to get as close to the natural feel of the drawing aspect of what I do. I'm not terribly up-to-date when it comes to technological gear - I tend to find something that works for me and then just stick with it. I haven't been a big fan of plug-ins or filters that are advertised to give instantly 'vintage'-looking results, but I recently discovered the True Grit Texture Supply, and I really like their comic book-style halftone brushes and Mid-Century print effects kits for PhotoShop. But as far as giving things a vintage look, I really believe it just comes from surrounding yourself with vintage inspiration and being somewhat obsessed with it. What is it about this old poster that looks so good? I try to deconstruct everything and identify the key elements that appeal to me, and then I focus on every little aspect of its design, from top to bottom. Training your eye to spot these things is just part of the process, and it's taken me over a decade to be this nerdy. 
5) What are a couple of your favourite projects you have worked on in terms of having come out exactly as you envisioned it?
Ironically given the fact that I'm predominately creating work influenced by the past, I'm not a nostalgic person when it comes to my own stuff. I'm always striving to get better and advance in everything I do, so as much as I'm proud of things I've done, naturally I always aspire to greater things in the future. That said, I feel like I've hit a bit of a stride recently with the Dorothy & Otis-influenced work, incorporating a kind of airbrush-look that's reminiscent of the beautiful Mexican movie posters of the 40's with dazzling angles and stylised portraits. The CD cover I did for Peter Petty's debut album 'Ready, Petty GO!' was done in that style, and came out very close to my original idea, and the bulk of it came to fruition in about a day.
The interesting similarity with any creative endeavour for me, whether it's music or artwork, is that the outcome is frequently different to what you envisaged, but it can often be something good that you weren't expecting. It's rare that something turns out 100% exactly like I had in my head, but I've come to realise that's not necessarily a bad thing. The cover I did for Knockout Kings CD "Heat Rising" is a good example - they pretty much gave me carte blanche over the complete design and I'm really pleased with it. It was one of those projects where I didn't really know what I was going for until I got started, then all of a sudden a kind of path seemed to present itself. 
Selfishly, some of my favourite projects have been the ones where I haven't had to compromise my concepts in any way and people have just let me roll with an idea, those are definitely the most fun jobs to do. The perfect example of that is a guy like Pat Capocci - because of his profile and sheer reputation as a fantastic musician I've gotten a lot of exposure from the design work I've done for him. I did a couple of album covers as well as a bunch of little design projects and he's always extremely generous and gives me a very long-leash on what I can do.
6) You have now worked on two (sort of three as one was a set of two) projects for the Jive Aces as well as being a guest guitarist on tour in the USA; how did you find working on those projects and working with the band? 
Well first off, it's worth mentioning that I can't think of a harder-working band than the Jive Aces - everybody in the group has their own areas of responsibility and expertise, and watching the guys work is a real lesson in working towards a shared goal. That attitude seems to spread across everything the band does, so it does encourage you to be more 'pro' and work harder when you're among that for any length of time. I did the artwork for the two-album series, "Diggin' The Roots" (also released as a double LP set with gatefold sleeve), and from start to finish, it was a pleasure. The guys gave me complete control over the artistic direction, and the only guidance I received was that the two volumes needed to coordinate or connect visually in some way. The result was a pair of connecting album covers showing the band in two different musical moods, interlinked by a flow of text banners, music notes and fading colours. When you're used to working to the size of a tiny CD it's great to have the chance to design for a large canvas, so I especially love the huge widescreen format of the gatefold LP sleeve when it's laid flat and the artwork seamlessly flows across both sides.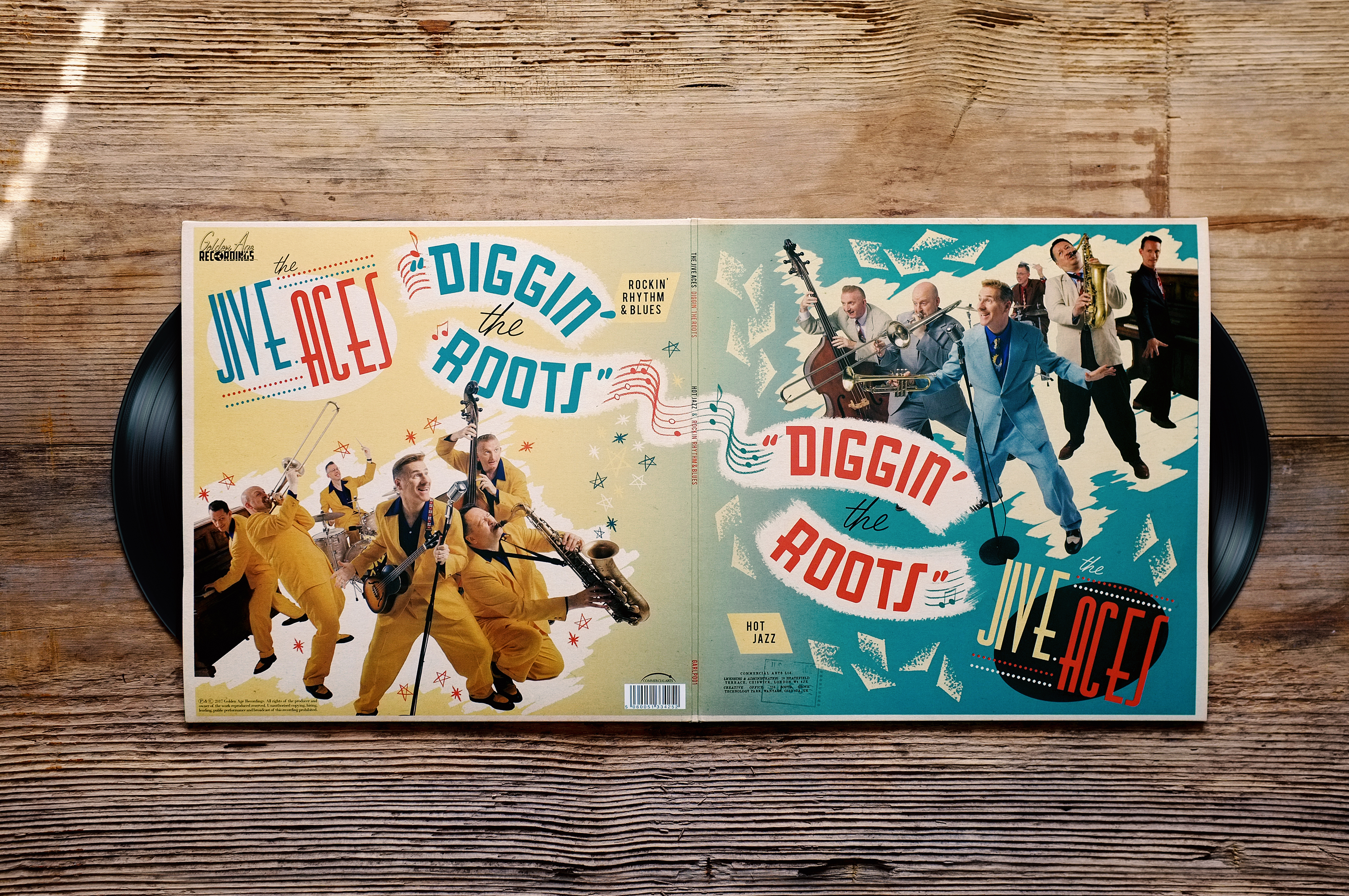 Around the same time I also did what I would consider a bona fide 'dream job', designing a stylised movie poster for an imaginary B-movie Science Fiction flick called "Hot Rod Gang From Outer Space", which was used in the music video for the Jive Aces original song 'Rock 'N' Roll Movie Star'. I treated the project as if it were for a genuine film, and for a short time, I got to live out my fantasy of being a '50s-era B-movie poster artist! (see above for poster)
Performance wise, I first met the group while I was still living in the UK, and we even did a couple of shows together when I was playing with Lynette Morgan & The Blackwater Valley Boys. Since moving to the US, I've been extremely lucky to be asked to guest with the band during several of their US tours, which they do about twice a year. As a guitarist, playing with the band is a unique situation for me. I don't often get the opportunity to play with such a versatile group - everyone in the band is a real musician, and the band's repertoire covers a wide range of musical styles that I really enjoy. I feel like we share a lot of the same musical influences, and they're equally aware of all my guitar heroes like Hank Garland, Charlie Christian, Les Paul & Grady Martin etc. They welcome me very warmly, always encouraging me with solos and feature songs etc. They're always more than generous when it comes to showcasing all of their guests and frequently shine the spotlight on guest vocalists, musicians and dancers in every place they play.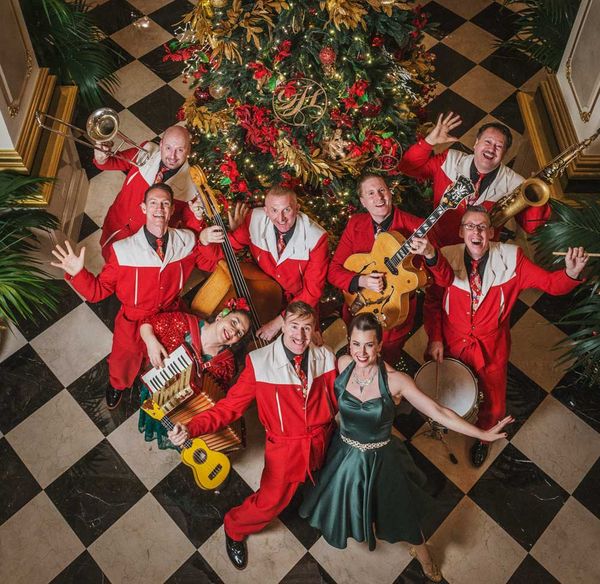 7) And finally, what are your top three simple tips for people to watch out for when creating vintage style designs for album or flyer artwork?
1. Lettering is art 
I'd definitely pay more attention to the art of lettering - it's unbelievable how much information the appearance of lettering can convey instantly, regardless of what it actually spells out. I usually try to avoid using easily recognisable computer fonts or things marketed as self-consciously 'vintage' or 'retro' - these things always stick out to me, and it's usually overkill because you've seen them used on a zillion other projects. A while ago I got really into the art of hand lettering (for a primer check out the work of Golden West Sign Arts master sign painter Derek McDonald) so if I can't find what I'm searching for I'll attempt some hand lettering, which is always a challenge but it definitely captures a more traditional, vintage style. Again, more artistry = more "vintage".
2. Borrow from your influences, but don't steal wholesale!
If you're serious about being a proper designer I would always avoid appropriating someone else's work - I frequently see artwork that's simply an old movie poster or pinup photo hastily cut & pasted together, and aside from looking pretty poor, it's not very creative. (hastily hides last Big Jive All-Dayer flyer - Alex)
3. Learn from the greats 
I think it's important to remember that visual inspiration is everywhere, and if you're stuck on a project or don't have any ideas then you only need to flick through a reference book or do a Google search and there's a world of inspiration waiting, free of charge! Set the bar high and look at work from the best of the best, and absorb as much creative influence as possible. I've often done that, particularly when I can't think of which direction I want to go with a certain project and just need a creative boost.
A big thanks to Chris for taking the time to answer some questions about his process. Hopefully, this has helped some of you with ideas for your next vintage-inspired design. If you would rather save yourself the work you can always hire Chris! Contact him at telegramforcw@gmail.com or check out his slowly expanding Instagram feed at @stuffbycw.
As always, leave any questions or comments below!
Cheers, Alex