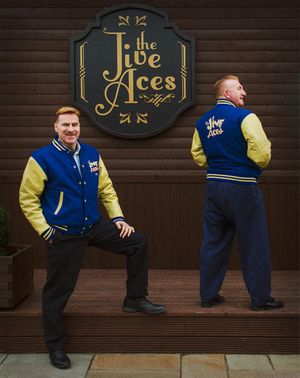 Being in a band that travels so much together you definitely get a sense that, as the great Count Basie once allegedly said "The curtain never comes down". A group of people travelling together who you not only play the music but love classic styles from the 40s and 50s and wear vintage or vintage style clothes every day and are also often carrying instruments and related gear, you tend to stand out from the average commuter and get some attention. This makes us a walking ad for ourselves whether we like it or not which is a great opportunity.
A couple of years Mike from The Seamstress of Bloomsbury approached us and pitched making some American style baseball jackets (aka letterman or college jackets). At first, we thought "Great!". Then we thought it might be a bit cheesy with seven or eight of us walking around with our own logo emblazoned across our backs and fronts. then we tried it...
Since then these jackets have become one of the best advertising tools we have ever accidentally happened upon. One thing we realised is that the authentic styles from the 40s and 50s are timeless and classic. Most clothes from other decades, if you were to walk around head to toe in, look silly or clownish or like you were "in costume" from a play or wearing for some kind of ironic effect. Even recent eras like the 60s and 70s don't have the same universal appeal as pegged pants and a gabardine shirt with two-toned crepe soled suede shoes.
We hand out more business cards in airports than anywhere else when wearing these on tour. Also, the number who come up to us and tell us they love our "Bring Me Sunshine" or other videos has increased tenfold. They probably wouldn't recognise our individual faces but the names and flash of yellow seems to sink in. between that and our yellow suits we accidentally hit upon some corporate branding (even though we aren't a corporation!).
So my point is not that you have to literally have a neon sign stuck to your head with an arrow but if you already stand out (in a good way) then you may as well utilise it towards channeling interest towards what you do!
Apart from that, they also became a great bit of merchandise too (which are available in our store, ahem. #ShamelessPlug)
Hope this is a bit of food for thought.
Cheers, Alex