For all the annoying things which Facebook keep doing, all which seem to have the end result of you reaching fewer and fewer people, there is one feature which has actually improved. That feature is event pages.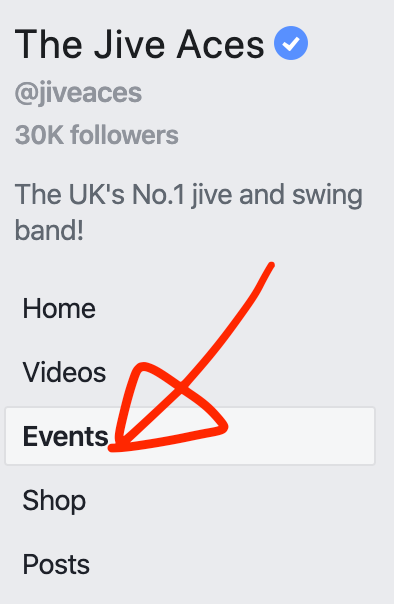 If you are saying to yourself "I have already added all my show dates on my website, can I really be bothered to do double work and create separate events on my Facebook Page too?", I certainly sympathise as I thought exactly the same thing for the longest time and decided the answer was "no" and let the FB events lapse for quite a while. 
At one point I then decided to just create one every time I updated the website and I am glad I did. Now when I update the website I routinely create a Facebook event page or find the existing one and add it to our page (covered in more detail below).
I have noticed recently that Facebook is attempting to make content more relevant geographically and while they have removed some tools which previously allowed us to invite a ton of random people when you create an event it actually organically reaches a bunch of people that have no apparent connection to your page. I have no idea how the "under the hood" stuff works so this may be based on connections of connections, i.e. friends of people that do like your page and it may change at any point but for now it works.
If people start to interact with your event, liking, commenting and sharing it then it can spread quite far. Case in point, I created an event page for our "Big Jive All-Dayer 2019" several months ahead of the event date. By the time the event happened, there were over 1300 people who had clicked "interested". A great part of that was before we had even announced the line-up of bands.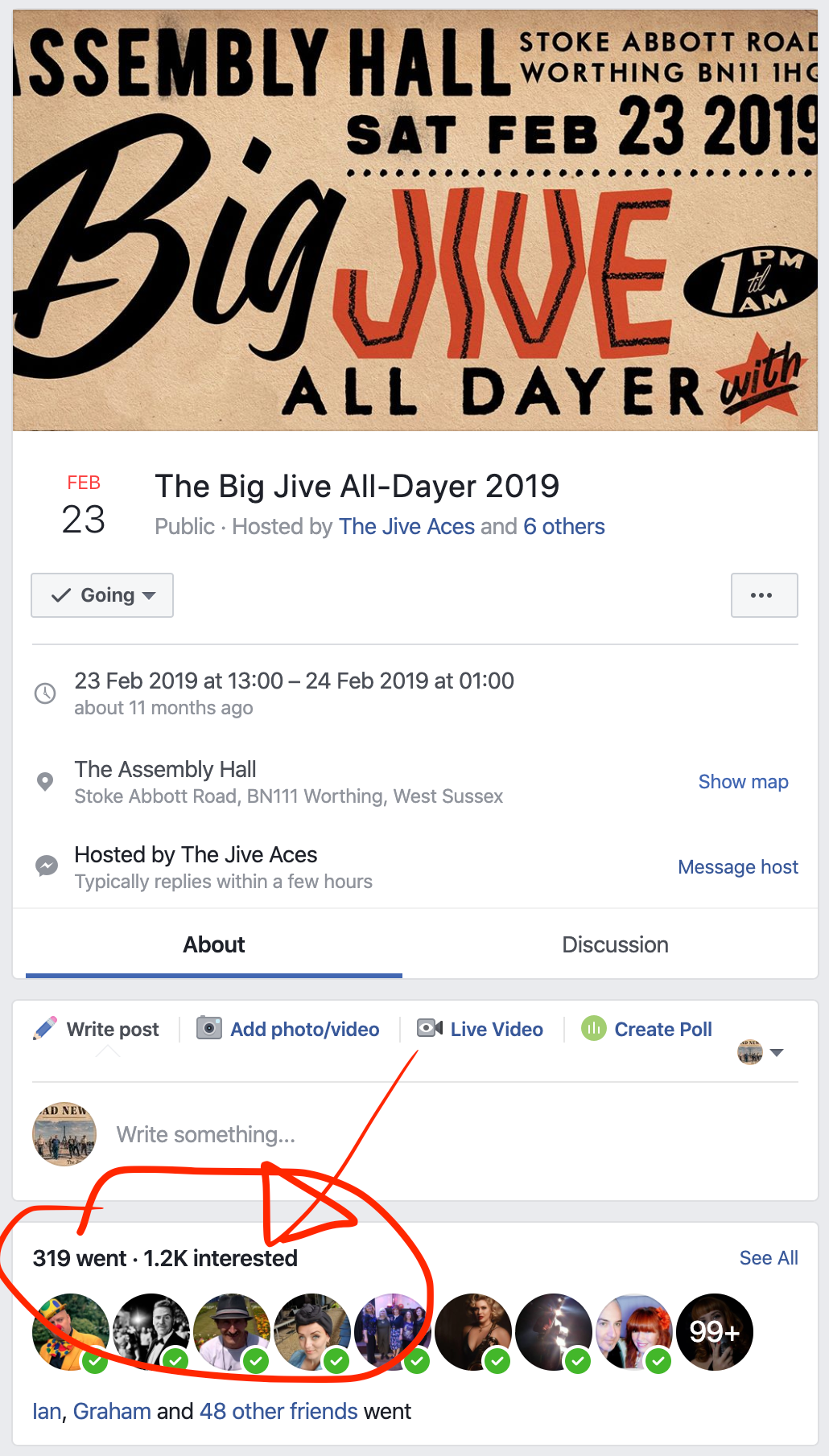 I had another happy accident recently where I created two Facebook event pages, one for each of our shows at the Viva Las Vegas Rockabilly Weekender coming up in April 2020. As soon as I posted them they started to get huge traction with tons of people pressing going or interested and tons of shares and comments.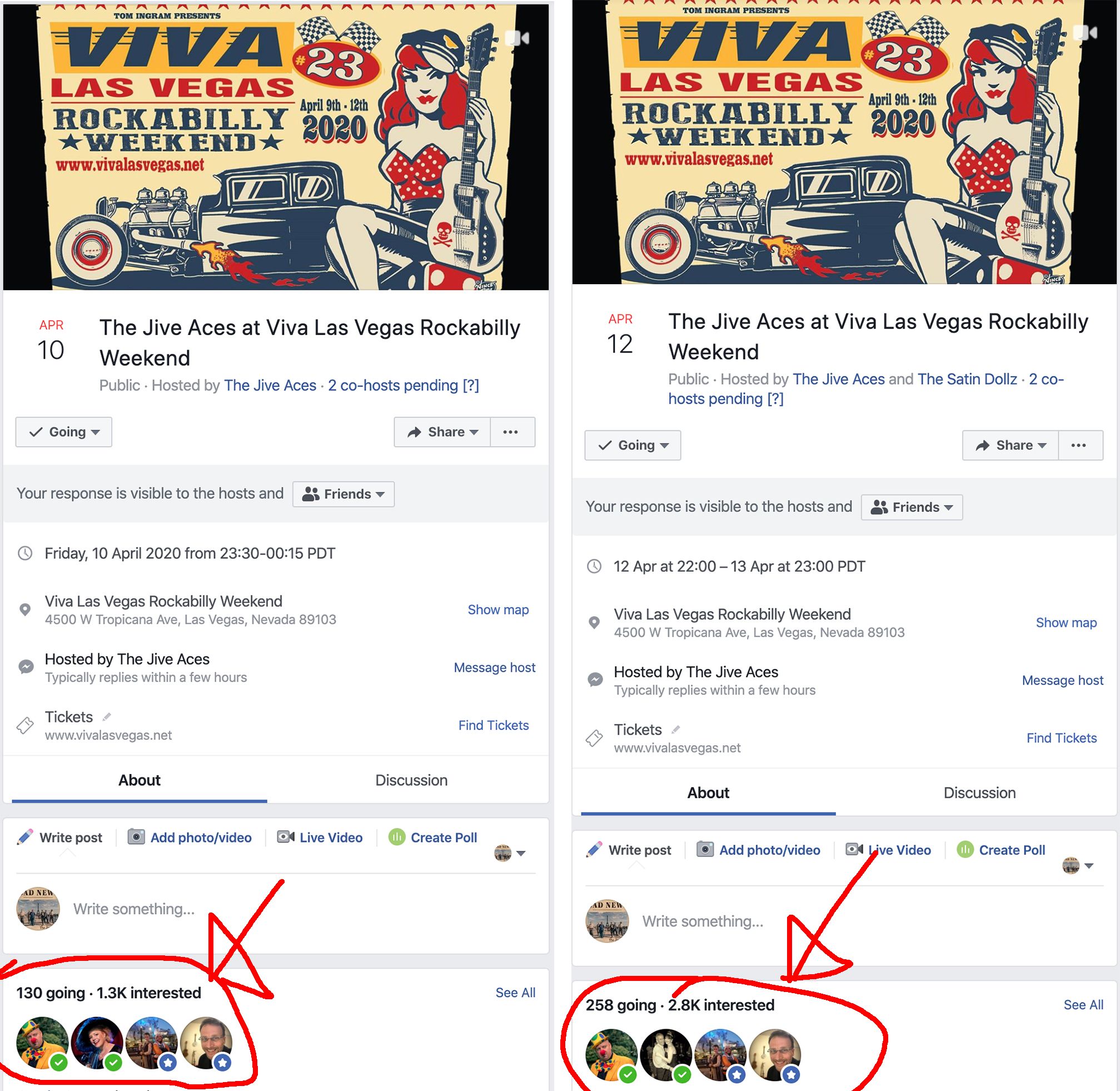 This is great for two reasons; Firstly, if I post in the event then I am likely to reach a lot of new people who haven't liked our page (yet) and can plug our specific performances at Viva (as there is a lot going on so competition to get people to your venue) and secondly if they "like" the post I can then invite them to like the page and so get a bunch of new page followers. 
Some tips on Facebook Event Pages: 
Create an event page for every gig you have.
If you are playing a show as part of a festival or for another promoter who already has a page, add that to your page instead of creating a new one. 
Also, get them to add you as a co-host.
If you have other bands, DJs, guest artists or performers then add them all as co-hosts as this will give more exposure to your event. You then have to follow up with each of them to ensure they ACCEPT the co-host request (that is sometimes the hardest bit!). 
Post updates in each event as this bring new attention.
Occasionally check each event and each post to see if new people have liked the original event post and/or posts in the event and invite them to like your page.
Avoid having duplicate FB event pages for the same show wherever possible. This is for two main reasons (apart from being unnecessary work). Firstly, it confuses the audience (or potential audience) if there is conflicting info or if one event gets updated more regularly than the other. Secondly, it means you are splitting the audience which limits the possibilities of building to that critical mass where Facebook then pushes the event out to more timelines.
One last thing is that I do use the "tours" feature which lets you group selected events into a tour with common attributes. The tours get featured above the rest of the separate shows and in a bit of a weird order too. When you create the "tour" you can standardise the description, ticket link, header picture/video etc or you can change it for each event as you wish. It is up to you whether you think this is useful or not but it doesn't seem to affect the reach. 
Hope this helps, let me know if you have any questions or want to know anything else for the blog. 
Cheers, Alex