Hello there,
It's been an incredibly busy August and September doesn't let up much either, just how we like it! There is lots to cover so please read through to the end (that's where all the best stuff is! 😉).
Summertime Swing
Summertime Swing was an absolute smash, despite our reduced capacity we were sold out and everyone had a great time! Thank you to all our volunteers, our guest performers Ray Gelato, Rebecca Grant, The London Belles, Noelle Vaughn, Adele Joel, Lucky Will and Carlton Braganza, and our DJs Eight-Beat Mac, Eight-Beat Mabel, Jivin' Man and guest DJ Swinging Rocking Daddy! thanks also to Vivien of Holloway for our lovely new Hawaiian shirts which we can't get enough of!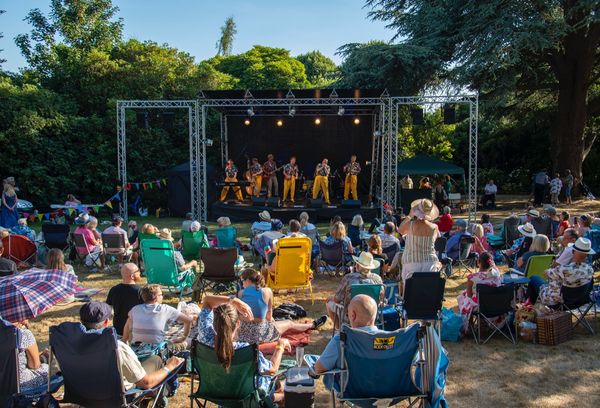 We are still counting the shekels but it looks like we have raised £3000 to split between three charities, two local ones and The Not Forgotten who were represented on the day.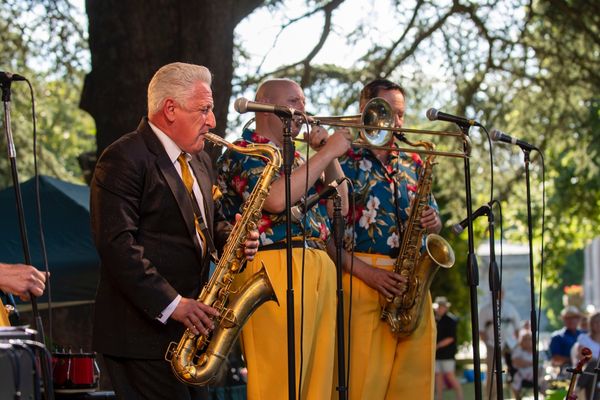 working to confirm the date for next year and we should be back up to full capacity so watch this space for news!
Edinburgh & Glasgow
Literally the early morning after Summertime Swing we jumped in the van and headed to Scotland for a three-show run at the world-famous Edinburgh Festival Fringe, the largest arts festival in the world. We sold out our show which is no mean feat considering there are over 3500 competing events over the three weeks!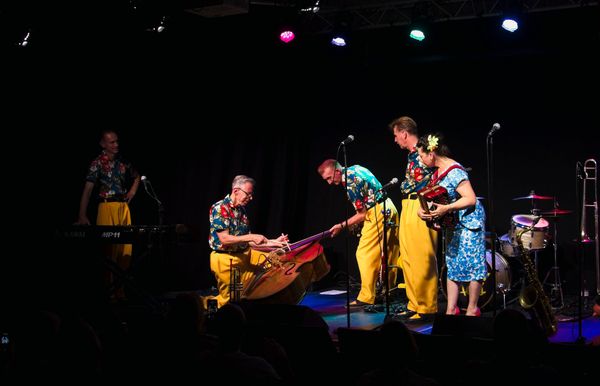 We also headed over to Glasgow for a swing dance with our friends "Rock Til U Drop". We will be back in both the Edinburgh and Glasgow areas sooner than you think (October) so look below for the upcoming dates.
Belfast
After a flying visit home, we flew out to Belfast for a private party but were fortunate enough to catch the legend Van Morrison in concert at the Customs House Square. Van was on top form playing a lot of blues, rhythm and blues and gospel in his set which also included songs from his new album as well as a few classics such as "Gloria", "Baby Please Don't Go" and even "Brown Eye'd Girl"!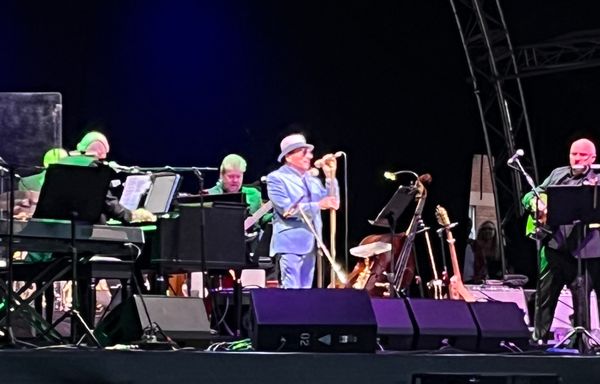 Route 66, Aarburg Switzerland
Right after we got home from Belfast it was off to Switzerland for our first time at the Route 66 Festival in the beautiful town of Aarburg. We were on the bill alongside loads of great rock and rockabilly acts including Status Quo.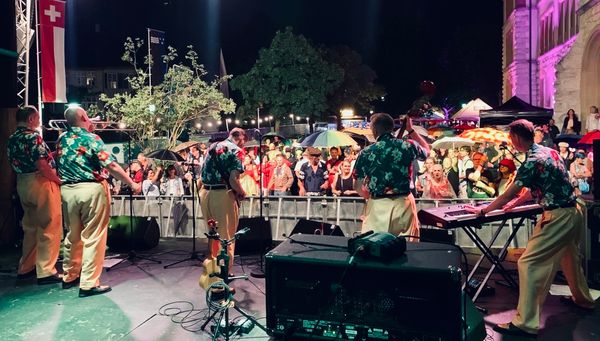 A great time was had despite their British weather (no, we didn't bring it!) but they had plenty of brollies on hand as you can see.
Twinwood
It was great to be back at Twinwood again, with so many friends from worldwide! The Down For The Count Orchestra played an incredible set with their extended big band lineup and the amazing Si Cranstoun was on after us amongst many other acts so a great day of live music in a great weekend!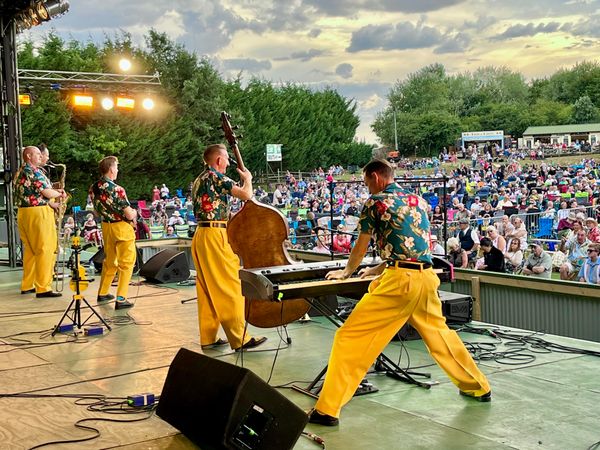 We may have even snuck in a cheeky video with the London Belles for our new TikTok channel (see below).
Coming Up
We have a lot coming up so pay close attention, we'll be testing you at the end! 😉
Next up we have the Big Jive All-Dayer Netherlands, the first Big jive we have exported internationally, on Saturday 3rd September in Hoorn, just North of Amsterdam. We have an incredible line-up of British and European vintage-style entertainment for you; Ourselves of course plus Mike Sanchez with Red, Hot and Jivey, Cat Lee King and his Cocks, Torello's Jive Bugs and The Blind Rats plus DJs Swinging, Rocking Daddy, Miss Heidi and Jay Cee.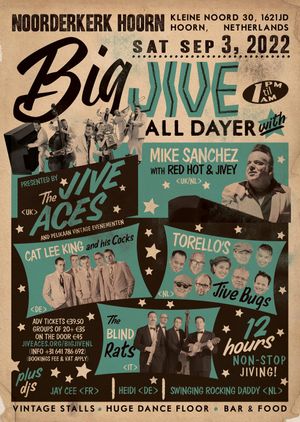 There are a few tickets left so get the quickly from jiveaces.com/bigjivenl.
The next day we head to Paris for two shows at the city of Light's longest-running (and coolest) jazz club, the Caveau de la Huchette on 6th and 7th September starting at 10pm each night.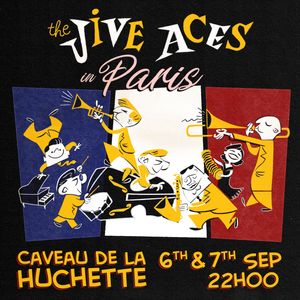 We're may even be sneaking in (yes, sneaking again) filming a new music video while there. See below for a clue as to which song...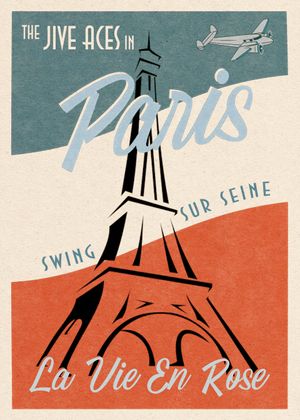 Here is a list of shows coming up in September and October:
Sep 15, 7:30PM - Romanby Jazz Club
Sep 17, 9:30PM - Warners Nidd Hall, Harrogate
Sep 18, 7:00PM - Peggy's Skylight, Nottingham
Sep 24, 8:00PM - Pier Fest, Horatio's Bar, Brighton
Sep 30, 7:30PM - Callander Jazz & Blues Festival
Oct 1, 1:00PM - Callander Jazz & Blues Festival
Oct 5, 8:00PM - The Bungalow, Paisley
Oct 7, 9:30PM - Stramash, Edinburgh
Oct 16, 4:00PM - The Roots of Elvis, Upstairs at the Gatehouse, London
Oct 22, 7:30PM, The Land Rover Social Club, Solihull
Oct 29, 9:30PM - Warner Hotel, Sinah Warren, Hayling Island
Oct 30, 1:00PM - Ronnie Scott's Jazz Club, London
Don't forget to check the website often for dates further ahead and any additions and changes at jiveaces.com/tour.
And not forgetting our "Not Quite Christmas" Show at the Aldwych Theatre in London's iconic West-End, We will be announcing our very special guests soon but tickets are already selling fast so get in there quickly for the best seats! go to aldwychtheatre.com.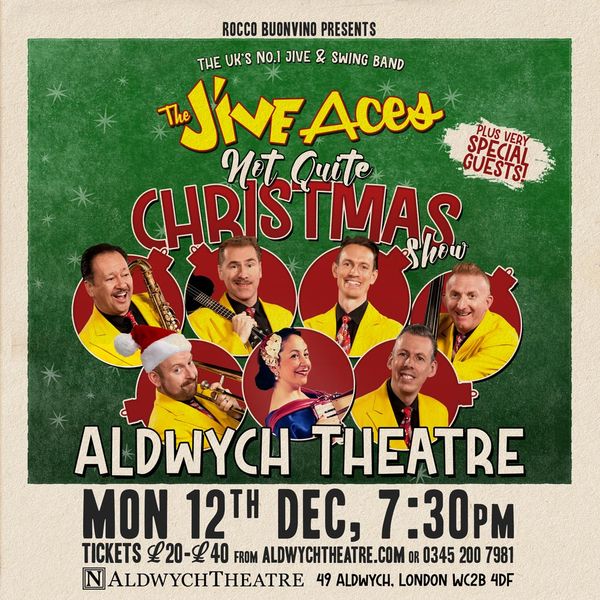 TikTok, Just Can't Stop
We have been experimenting with some short TikTok videos, don't worry, we're not doing those silly challenges or miming pop lyrics, it's still all us and mostly music but something a little different.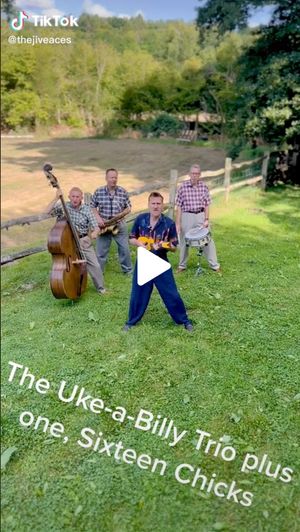 Go to tiktok.com/thejiveaces and follow us there leave a comment or two!
That's it for now, hope to see you at a live show soon!
Cheers,
The Jive Aces