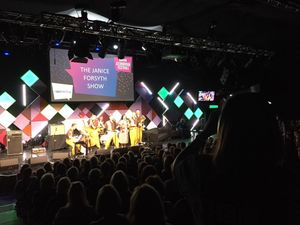 Right after Summertime Swing, we drove straight up to Edinburgh for the Fringe, the biggest arts festival in the world. Unfortunately, we could only stay a couple of days as we have to fly to Colombia on Friday!
We started off on Monday morning with an appearance in the big blue tent for BBC Scotland on the Janet Forsyth show which was broadcast later that afternoon. You can hear our two spots on the BBC iPlayer HERE and HERE for the next 28 days.
Then we shot over to Geroge Square Gardens to do a couple of songs at Assembly's "Best of the Fringe" variety show. Right after that, we snuck in a cheeky viewing at the Imax of Dunkirk to see Tom Hardy do an amazing job shoot down those pesky Fokkers!
We started off Wednesday playing a couple of songs at Merv Stutter's "Pick of the Fringe" variety show before heading back to George Square to set up our own show!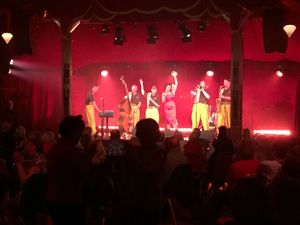 The show featured special guest Amy Baker who performed at her first Fringe and blew the audience away!
It was lovely to catch up with our good friends Jim and Tamra Meskimen (who feature in many of our music videos including "Bring Me Sunshine", "La Dolce Vita" and "Smile" and also Anneka from The Three Belles!
Lastly, we have to give a shout out to the Margarita and all our friends at the City Restaurant where we just can't get enough spicy haggis!
Till next year, farewell Edinburgh!