Joining The Jive Aces this year for the first time is the man, the myth, the legend Mr Mike Sanchez; Peter Donegan, son of the king of skiffle Lonnie; Cassidy Janson, currently starring as Carole King in the West End musical "Beautiful"; rock n roller Rebel Dean, long time star of the "That'll Be The Day" show; And our current frequent guest the lovely Miss Amy Baker. Tickets from www.jiveaces.com/summertimeswing 
Plus we have DJs Dave Ebj Fairbairn (Eight Beat Mac) and Swingout Si (Simon Stemp) from Homefront Lindy Hop, vintage stalls, classic cars, raffle and as usual all the proceeds are going to charity.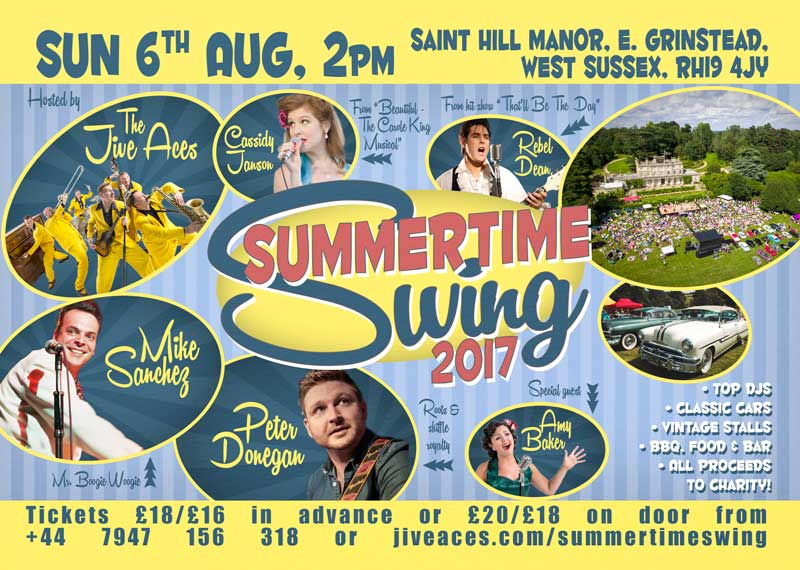 This year we are supporting the The Not Forgotten Association again plus some more to be named. If you would like to donate a prize to our raffle, please get in touch! Last year we raised £7000 and we hope to beat that with your help! 
Get your tickets now from the link below! We'd like to point out that the price has not gone up in several years, what a bargain. Under 12s are free and there is also a group discount for 10 or more tickets bought at once! 
If you would like some flyers to put out at any events you are holding or attending, please let me know. We also have a Facebook event which you can invite your Facebook friends to at www.facebook.com/events/133452487187851.

Get your tickets from www.jiveaces.com/summertimeswing